Palm Beach Emergency Restoration
We're on call 24/7 to react promptly to
your restoration emergencies.
Assured Restoration is a water, fire and mold mitigation company. We Respond to water and fire emergencies, mitigating and restoring commercial and residential property. We also provide mold remediation through education and science to restore property to a healthy state.
RECOVERY & RESTORATION SPECIALISTS WEST PALM BEACH
Our team of professionals offer mitigation, abatement, remediation and restoration for effects from water, fire, floods, storms, mold and potential biohazard situations. We are your Large Loss Recovery and Restoration team.
Commercial Water Restoration West Palm Beach
Our experienced team understands the need for a fast and efficient response, which is why our goal is to get businesses back up and running as soon as possible.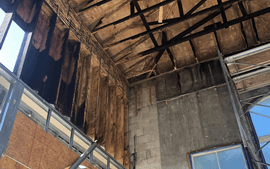 LARGE LOSS SPECIALIST WEST PALM BEACH
We have a 24/7 response for emergencies to provide effective mitigation to save our commercial customers time and money.
Commercial Water Damage Restoration
No one fully expects water damage to strike a business. It could be caused by storms or something as simple as a burst pipe. Once it happens, it can quickly spread across a building, causing permanent stains, damaging upholstery, books, and other items. They can disintegrate and metal surfaces like factory equipment can start rusting. So, when it does happen, its critical to have a ready partner who is always prepared to tackle this challenge and restore things back to order. The Assured Restoration team has the technical expertise and equipment to combat the devastation that water damage causes, so you can bounce back to business as soon as possible.
Commercial Fire Damage Restoration
Fire damage can devastate a business and it doesn't end at that. After a fire outbreak, you still have to deal with the smoke and soot that it causes. Let's not forget the damage caused by water used by firefighters and fire suppressing mechanisms. The longer that you go without putting things back on track after a fire outbreak, the more revenue and productivity you lose. That is just what our services at Assured Restoration are designed to prevent.
Water Removal / Extraction and Cleanup
Our water removal process achieves a total extraction of water that might have flooded your home or property. This significantly shortens the drying time with multiple positive results. On one hand, it prevents mould from forming, which might cause more damage and increase your costs. On the other hand, you can also get back to business or move back into your home in less time than you envisaged. To achieve these results, we use state of the art equipment, like our truck-mounted water extractors, fitted with high-speed pumps. This equipment can remove hundreds or thousands of gallons of water from your property in a single usage.
24/7 Emergency Water Damage Services
Water disasters and damage do not respect business hours when they strike, neither should your response time. That's why the team at Assured Restoration is always available, 24/7 to restore your premises to the original state. On a workday, weekdays, and holidays, we are available for all water-related emergencies. Our response time is always swift, at daytime or nighttime.
Fire Damage Restoration, Smoke & Soot Cleanup
Our fire damage restoration, smoke and soot clean-up services are sure to deliver the pervasive smoke odour that lingers after a fire outbreak. We also remove the deep-clean soon on furniture. Our team at Assured Restoration is well-trained and certified to ensure that the clean-up process is expedited on time and your home of office is restored to conditions before the fire. This way, you can get back to your normal life. This service also covers the damage from water which is used by firefighters to put out the fire. You don't have to linger in worry about the setback from a fire outbreak.
Mold Removal and Remediation
In dealing with mold, it is important to act on time by taking precautionary steps while constructing the building, to discourage mold. If and when it does occur, it should be dealt with on time to prevent its spread. Mold can spread rapidly within the span of a few minutes. This should also be followed by a process of remediation to ensure the episode does not repeat itself. If done properly, you shouldn't have to worry about another mold outbreak in the nearest future.
Flood and Storm Damage Restoration
Damage from flood and storm can be devastating. Without immediate action to remedy it once the worst is over, things will keep getting worse. That's why you need a company that can transform your desperation for order into positive results. Assured Restoration possesses the right experts and the needed resources to move quickly and into a disaster area and commence work, irrespective of the extent of the damage.
Certified & Competent
Staff
We Work With
Your Insurance
Water Damage
★★★★★
I was shocked that a small water leak could cause so much damage under my kitchen cabinets, until they started to cave in. I can't thank your crew enough for responding so quickly. Crystal and the crew were great.
Harold W. Palmer
West Palm Beach
Fire Damage
★★★★★
Having our home catch fire was traumatic to say the least. I not only appreciate the work your team did to get our home back in order, but I really appreciate the compassion everyone showed for our situation.
Cindy C.
Palm Beach Gardens
Storm Damage
★★★★★
When I first saw our condo after the storm, I thought it was a lost cause. For the first time in my life, I'm happy to be proven wrong. Your teams cleanup work was amazing. Thanks again.
John J.
Boca Raton
Frequently asked questions
Do you need permits before you can start any restoration work?
It depends on a variety of factors, if you're unsure you should give us a call for an assessment. Water damage restoration, mold removal, and all the other types of repairs and restoration services we offer are policed and guided by the law for various reasons. The most important and obvious one being the safety of the homeowners and the safety of the city. Give Assured Restoration a call and we'll let you know what's required for your home.
Must you hire professionals to deal with a restoration?
Yes, it is highly recommended you hire a professional in restoration even if you have contractor experience due to any unforeseen circumstances . During the restoration process, professional restoration companies assess the structural damage, file insurance claims, restore utilities, file for permits, and slowly restore your home with the full force of a professionally trained team. Attempting to do your own restoration work won't be nearly as safe or quick  as it would have been if you hired professionals like Assured Restoration.
Does basement flooding cause mold?
It does. Basements are the hardest place in a home to dry out completely after home floods. After repeated floods or poor clean-ups, eventually, black molds and other species of mold will begin to grow in your basement. Molds need moisture to grow, and the fastest way to get them under control is to cut them off from their source of water. If you don't want to take any risks, the smartest thing to do is to call a professional restoration company like Assured Restoration.
How do pipe bursts occur?
Pipe bursts can be caused by multiple factors including:
Increase in water pressure

Frozen pipes

Corrosion

Lose or moving pipes
How to get your insurance company to pay for your water damage?
If your insurance covers whatever water or fire-related damages your properties are experiencing, then it should not be too difficult to process your claim provided you are working with the right team. If you are having difficulty describing the issue to your insurance company, please give us a call.
How long does typical water damage restoration take?
Depending on how much damage your property suffered, the source of the water, and the amount of work needed, a total repair could take anywhere from a few days to a few weeks. 
What are the types of water damages?
Clean water: This is flood water resulting from broken appliances and clean water pipes. It becomes contaminated after twenty-four hours.
Greywater: This type of floodwater comes from water drains, washing machines, dishwashers, and sinks. They are dangerous if they are ingested. 
Blackwater: This is water polluted by fecal matter or human waste. It is incredibly dangerous, and it should not come in contact with the skin. It is recommended that you hire a water restoration team to deal with black water floods. 
WEST PALM BEACH
2781 Vista Parkway Suite K1
West Palm Beach, FL 33411
561.286.4297